As a new initiative for trout area, we have started a project Vanfook custom colored lures under the title of "Japan Collaboration Series" with the cooperation of Japanese lure brands.
Unlike the hooks that are usually attached to the original products of lure brands, we offer hooks that we have selected and attached to the custom color lures.
As the first step, we have created custom color spoons with colors designed by our Field Staff with the cooperation of three lure brands.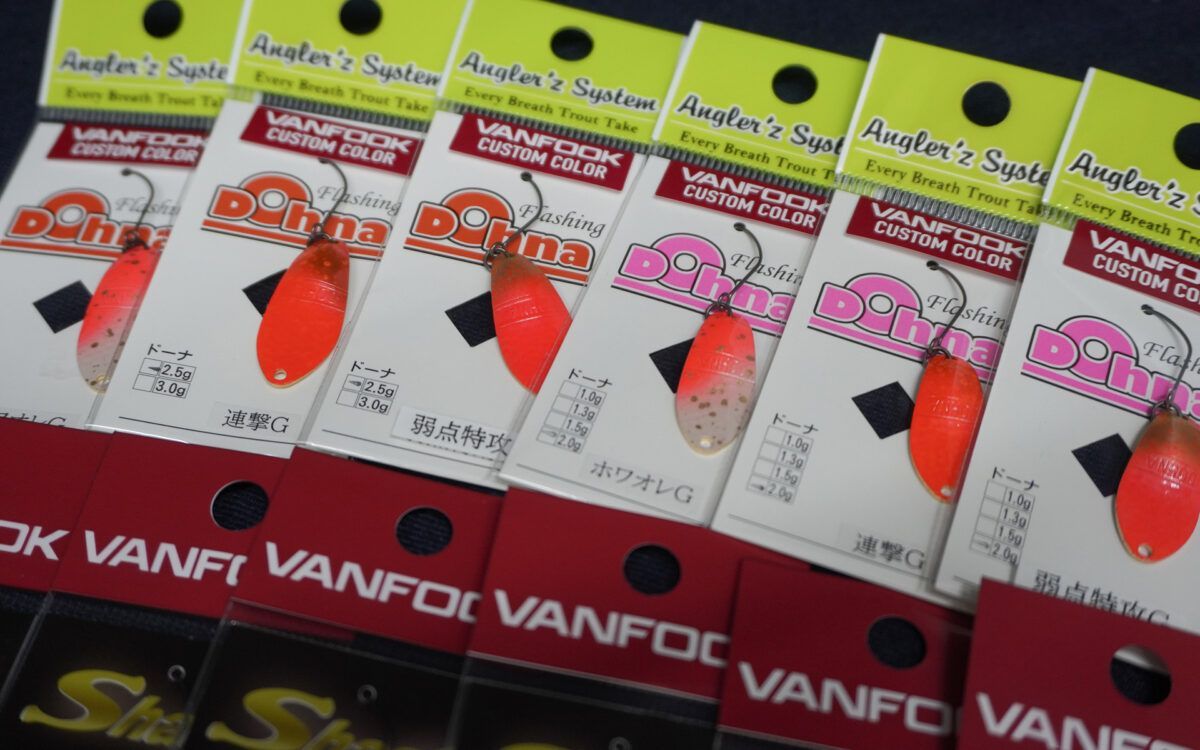 Angler'z System "Noriyuki Yokota" designed colors
First of all, a custom color for Angler'z System "Dohna".
It is available in 2.0g and 2.5g.
These three colors were invented by Noriyuki Yokota of Angler'z System, a member of Vanfook Field Staff.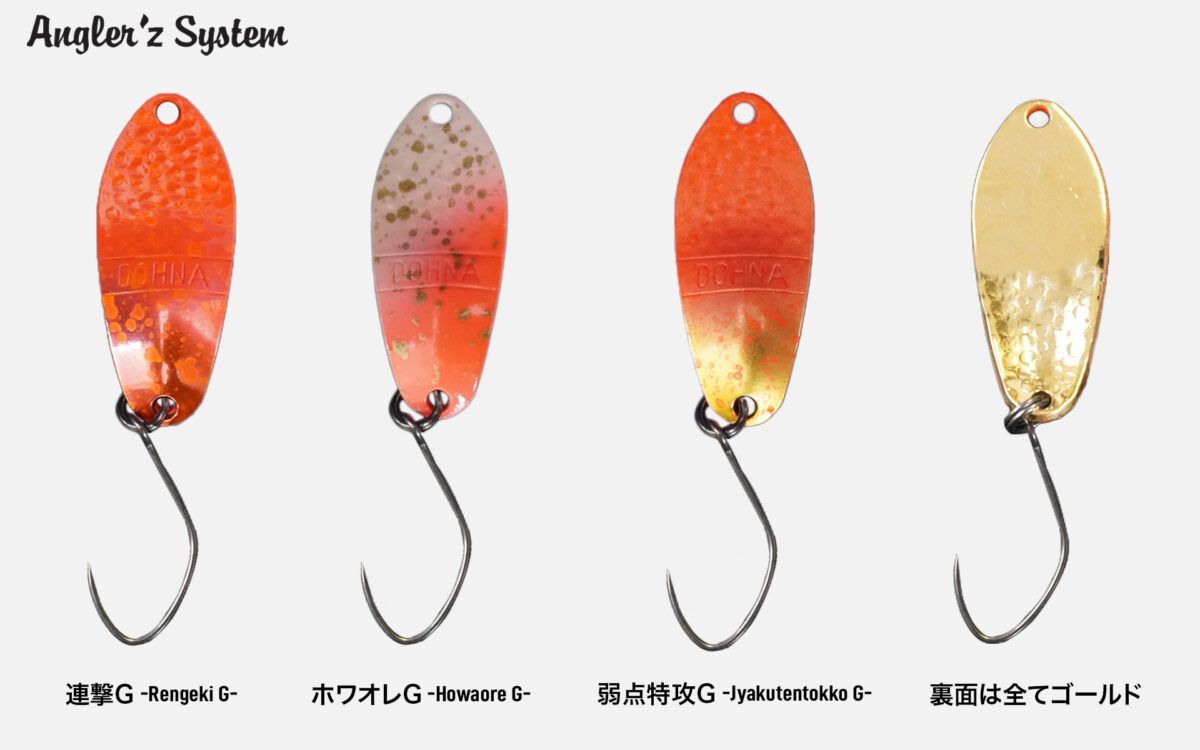 Rengeki G
A new concept red-gold type color with a metallic red base painted with a colorful red.
The entire body is spread with red UV paint, making it a strong color.
Ideal for capturing newly stocked fish in clear water and relatively shallow areas.
Howaore G
White + pink glow with gold flecks.
When the glow is emitted, the flecks are accented!
This color is highly effective in muddy water and low light conditions when the water is highly active.
Jakuten Tokko G
A highly appealing color with glowing gold on the tail of the red glow.
It has a similar colored flecks to the red glow to increase the appeal of the tail section.
Ideal for catching newly stocked fish in muddy to stained water colors and deep water areas.
[Installed Hook]
SP-31F size #5 on Dohna 2.0g / 2.5g.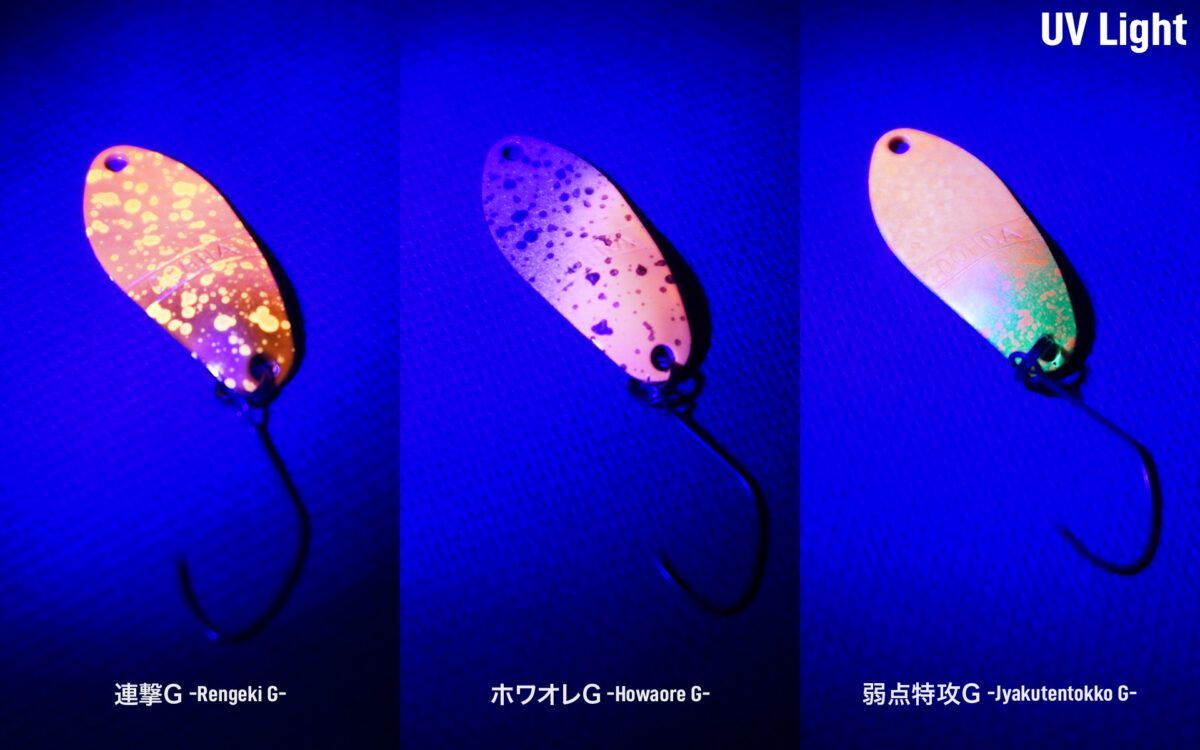 Color when irradiated with UV light
All three colors incorporate gimmicks that are highly effective in attracting fish, and excel in their ability to attract highly active fish from a wide range.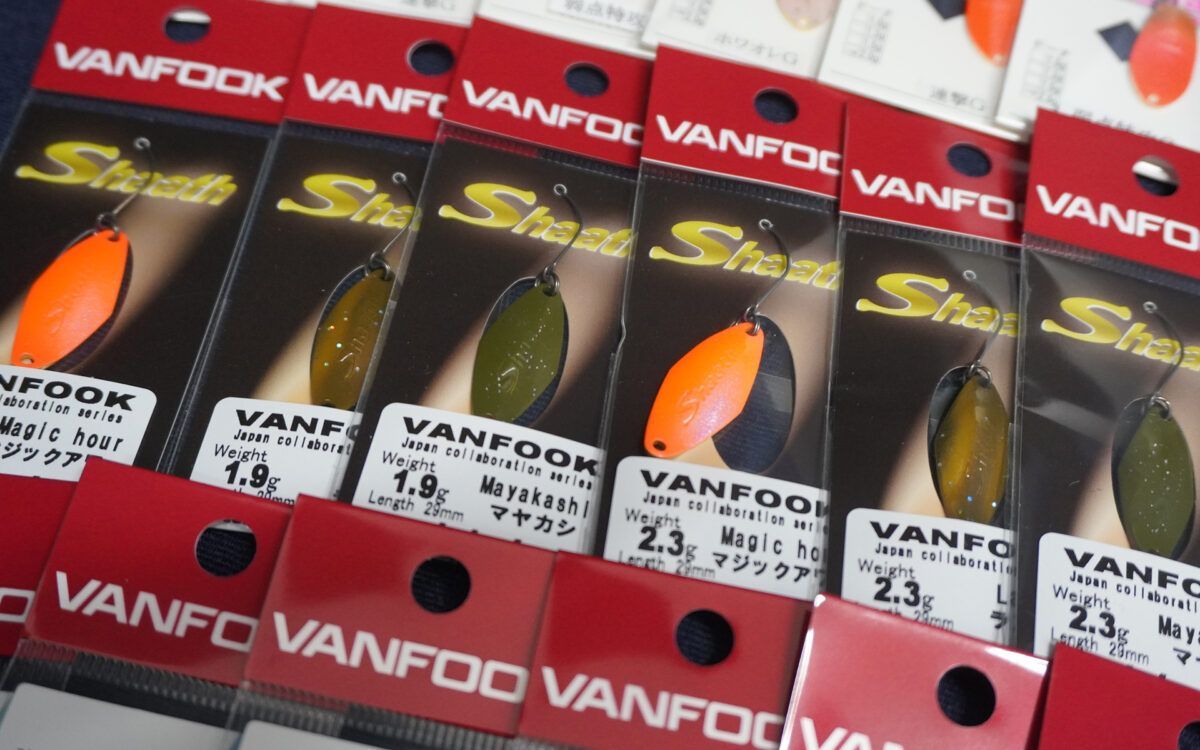 Sauribu, color designed by Tsutomu Takahashi
The second is a custom color of the Sauribu "Shaath".
It is available in 1.9g and 2.3g sizes.
This color was invented by Field Staff member Tsutomu Takahashi.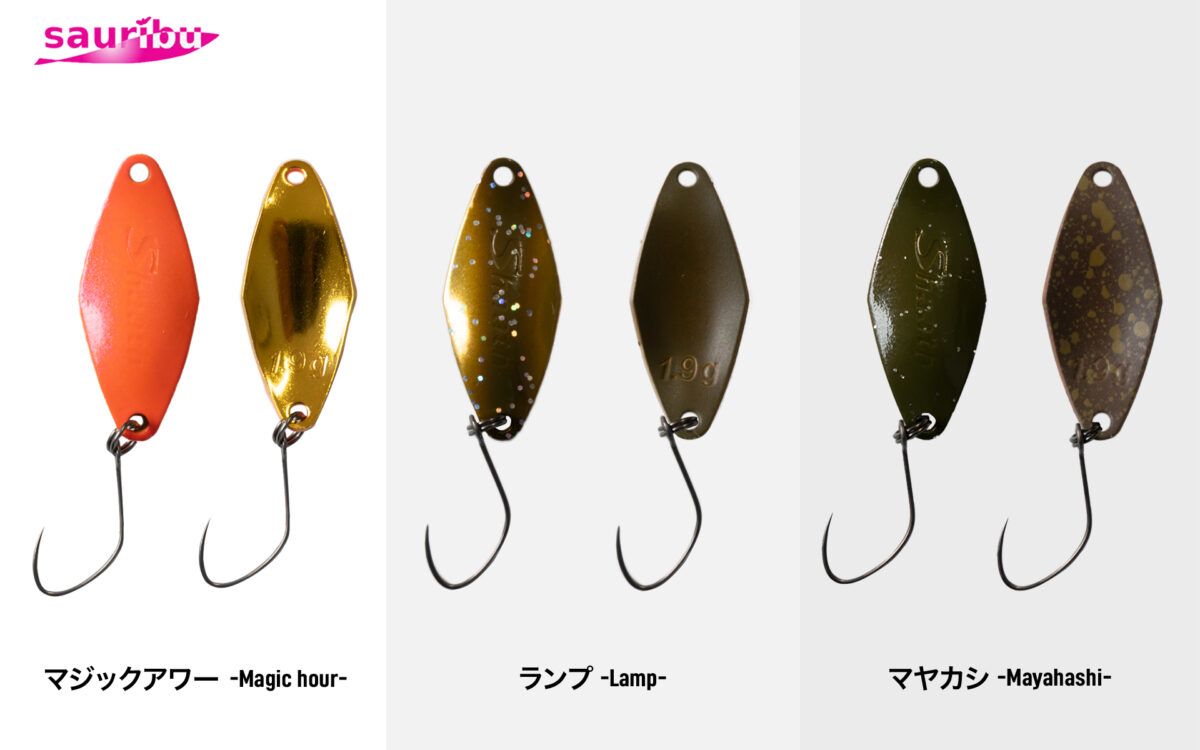 Magic Hour
Bright orange + blue pearl front and royal gold back.
The part of near hook on backside has a faint UV coating that is a marker and triggers a clear bite.
This color is designed to make the hunt on stocking time last longer with only one color.
Lamp
The color is a combination of gold, olive and brown colors.
Excellent performance in searching as well as making it to be bitten and it can fish regardless of the color of the water.
It can be used widely for searching first situations in the morning and for the third stage after stocking.
Mayakashi
At first glance, it appears to be a simple color for attracting fish, but the UV coating on the surface makes it appealing as well.
It is a great color to use on the bottom in the coldest months of winter to make reluctant fish to bite.
[Installed Hook]
SP-31F size #6 on Shaath 1.9g
SP-31F size #5 on Shaath 2.3g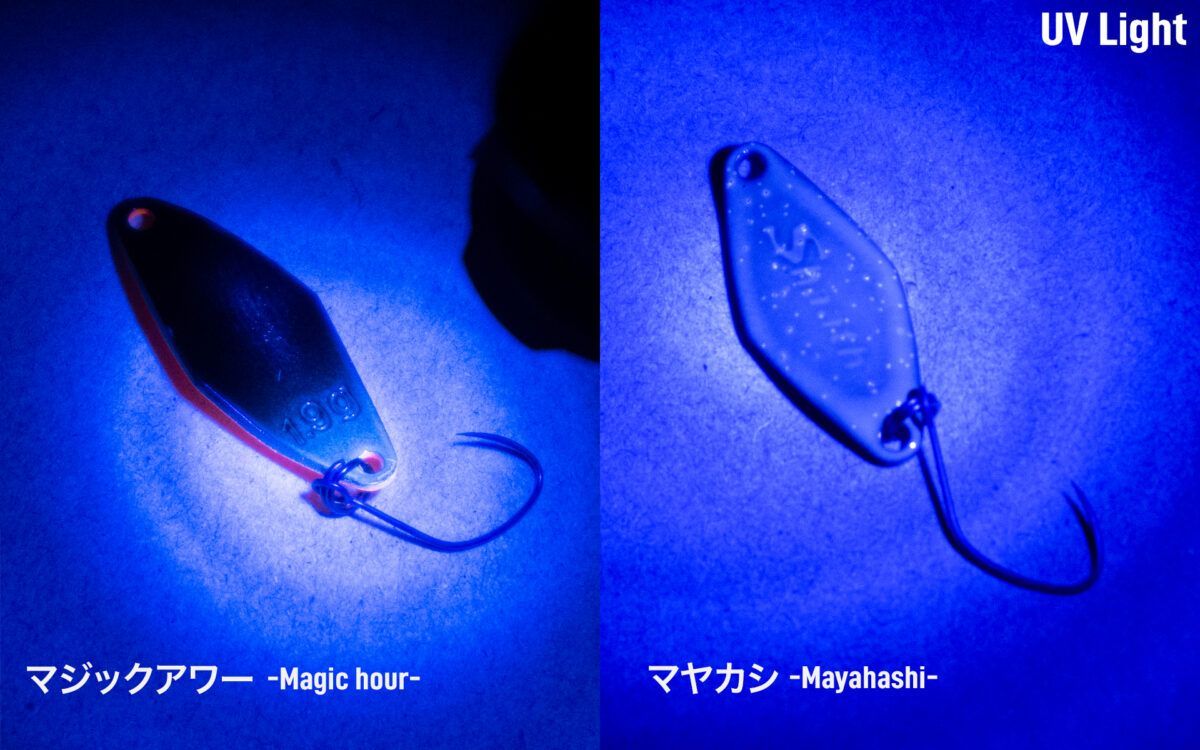 Color when irradiated with UV light
From high activity to low activity, three colors are available for a variety of situations. 3 colors are available for a variety of situations, cleverly incorporating UV luminescent paint and adding a touch of extra care to ensure long-lasting effects.

Color designed by Kazuya Tamba, Naburaya
Last but not least are the colors designed by Kazuya Tamba of Naburaya.
These are "Chip" 0.4g, 0.6g, "Accuracy" 0.9g, 1.3g, and "Exceed" 2.4g.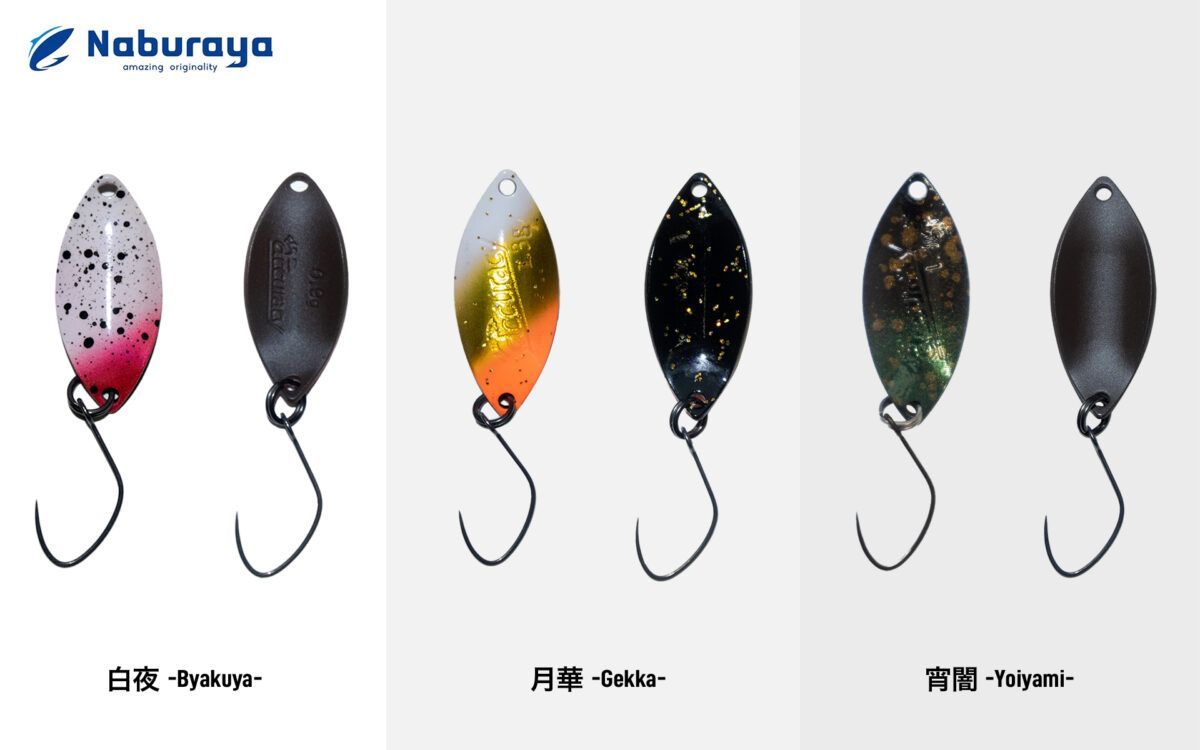 Byakuya (White Night)
Glow light pink on the front, brown on the back.
The light pink glow on the front surface is a light pink with a pearl overlay to make the glow weaker.
The metallic pink in the tail has a flickering effect that turns on neutral fish and induces them to bite.
This color is highly visible and ideal for sight fishing.
Gekka (Moon Flower)
The front side is gold, while the back side is black. It can call fish from a wide area with its strong brightening effect.
Recommended for high activity times such as second to third after stocking.
Yoiyami (Evening Darkness)
The shimmer of the marbled color fools fish and makes them bite.
The color is based on a black base that produces silhouettes easily, with a green majolored tail. Combined with the gold flew from above even the most reluctant fish will bite.
[Installed Hook]
SW-21F size #8 on Accuracy 0.9g / 1.3g
SP-31F size #5 on Exceed 2.4g
SW-21F size #9 on Chip 0.7g / 0.9g
*The spoon "CHIP" is available at Japan domestic events only.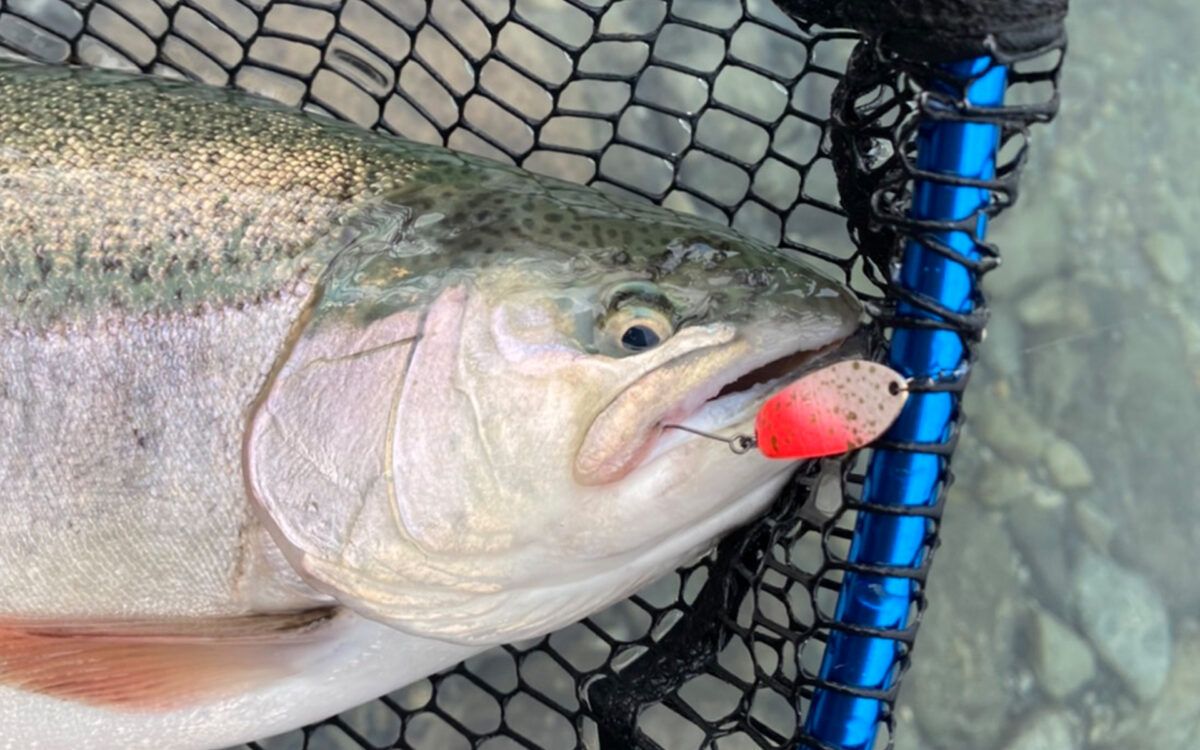 Angler's System Orikara Howaore G
Every colors are well proven colors.
These custom color spoons are available at trout events in Japan or through our overseas partners.
If you are interested in these colors, please check our social media and other event information!
We will continue to plan for more colors that are sure to catch fish in the future, so stay tuned!